Black Activists Laud Clinton Africa Trip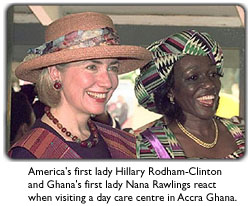 Monday, March 23, 1998
By Sonya Ross
ASSOCIATED PRESS
WASHINGTON - President Clinton's 12-day visit to Africa represents for Mel Foote and other black activists on both continents what they have sought through the ages: respect.
"I'm sure Marcus Garvey and Kwame Nkrumah are smiling today,'' said Foote, speaking of the leader of Harlem's back-to-Africa movement of the 1920s and Ghana's founding president.
Starting Monday in Ghana, warm, enthusiastic crowds are expected to greet Clinton on the longest trip to Africa by a U.S. president. The trip is designed to establish a new economic and political relationship between the United States and Africa and to show Americans a side to Africa other than famine, disease and war.
"I hope to introduce Americans to a new Africa, a place where democracy and free markets are taking hold,'' Clinton said Saturday as he opened a national his town-hall meeting about Social Security. "I hope all of you will follow my travels closely.''
The trip also is seen as a smart move at home, a symbolic journey to their roots for many of the 34 million black Americans that could create opportunities for them to help Africa, to bring full circle a legacy of suffering and denial as descendants of African slaves.
Civil rights activist Jesse Jackson compared the feeling to the biblical story of Joseph, who was cast out from his family, sold into slavery and ultimately returned to help his family.
"We who were taken or sold into slavery ... have become the Josephs of this situation,'' Jackson said. "We go back with a meaningful capacity to help both America and the African family.''
That response by black Americans is what Clinton is hoping for, White House spokesman Mike McCurry said.
"The president thinks of the kinds of opportunities that will come when we see African-American CEOs here in the United States, or African-Americans who have worked their way through the corporate ladder, going to Africa, engaging with their counterparts as part of this new effort,'' McCurry said.
"It is uniquely, the president believes, a possibility for America that we can help lead this global economic revolution by using that diversity that we are as we reach out to these regions of the world that are beginning to expand.''
In return, black Americans want the credibility that Clinton's travels can give to their efforts to become an influential lobby for "the motherland,'' much as Jewish organizations advocate for Israel.
"It's something they can point to with pride,'' said Foote, a Washington lobbyist for African issues. "African-Americans will never be respected until Africa is respected. They don't hear about us. They hear about those on the fringe. The image we have of them is very negative.''
Clinton's delegation reads like a Who's Who of influential black Americans, including members of Congress and prominent CEOs.
Also traveling with Clinton is radio personality Tom Joyner, whose syndicated morning show is widely popular with black Americans. Joyner has been promoting the trip on his program, which airs in more than 70 markets. He plans to broadcast from South Africa, as does the cable network Black Entertainment Television.
Not all are happy. Dissenters worry that the African trade bill around which Clinton is building the trip will lead to a mass appropriation of Africa by U.S. business interests. They say the bill puts too many binding conditions on African nations while setting few restrictions on corporations seeking to do business there.
"It should be called the African re-colonization bill,'' said Randall Robinson, director of the lobbying group TransAfrica. "It is the same exploitative message in a different private-sector package. Africa will rue the day that this legislation passes.''
Robinson, who orchestrated U.S. anti-apartheid protests in the 1980s, said once Clinton's trip is over, black Americans will want to know why Clinton glossed over human rights issues and ignored the brutal regime ruling Nigeria, a major supplier of American oil.
"There will be a lot of stories around Africa, and scrutiny. I'm not sure the administration's policy toward Nigeria can stand any scrutiny,'' Robinson said.
John Stremlau, professor of international relations at Witswatersrand University in South Africa, said Clinton would be wise to note reactions of black Americans toward his Africa trade proposals.
"Had South Africa gone bad, American society would have been much worse off as a result,'' Stremlau said. "We depend on our African-American population to keep the majority honest about the basic principles on which this republic was founded.''