The World Trade Center Attack

And Vidal's Views on the Subject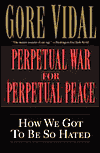 Immediately after the Sept. 11, 2001, destruction on the World Trade Center twin towers, I began to receive e-mail queries from people who wanted to know what Gore Vidal had to say about the attack. Readers have also inquired about La fine della libertà: Verso un nuovo totalitarismo?, Vidal's Italian-language book - published in November 2001 - that includes an essay on the Sept. 11 attack.
I can now report that the Italian book - which begins with an essay about Sept. 11 that was to have appeared in Vanity Fair - will be published in English in March under the title Perpetual War for Perpetual Peace: How We Got To Be So Hated. The publisher, Nation Books, will add some material to its edition, including a brief history of each article and something on censorship issues. You can purchase Perpetual War for Perpetual Peace - the title comes from a term coined in 1947 by the American historian Charles A. Beard - directly through the web site of Nation Books when it's available, or you can most likely find a copy at your local bookstore.
"That our ruling junta might have seriously provoked McVeigh and Osama was never dealt with," Vidal writes in the book. "We consumers don't need to be told the why of anything. Certainly those of us who are in the why-business have a difficult time in getting through the corporate-sponsored American media, so I thought it useful to describe here the various provocations on our side that drove both bin Laden and McVeigh to such terrible acts." And he adds: "The awesome physical damage Osama and company did us is as nothing compared to the knock-out blow to our vanishing liberties."
Because of the provocative nature of his views on the Sept. 11 attacks, Vidal had a hard time finding an English-language publisher for his essay on the subject. Almost immediately after the attack, he began to write a piece for Vanity Fair, but the magazine subsequently decided not to print it. In mid-September, an early version of that piece appeared in an on-line publication in Brazil, and that Portuguese-language piece was subsequently translated into Spanish and published on the internet by a Mexican newspaper. Below are links to both of those pieces (which are, of course, in Portuguese and Spanish).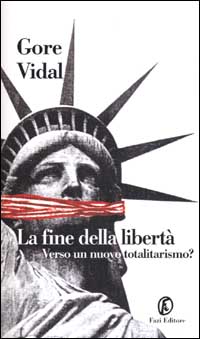 In Italy, in November 2001, Vidal published La fine della libertà: Verso un nuovo totalitarismo?, which means, "the end of liberty: toward a new totalitarianism." This 120-page book, pictured here, consists of four essays in four chapters - three of which have already appeared as magazine essays - followed by six pages of endnotes explaining names and events from American history to the book's Italian readers. Chapter 1 of La fine della libertà is the above mentioned piece intended for publication in Vanity Fair. This chapter ends with a six-page chart that lists official American military operations around the world - including their names - beginning with the Berlin Airlift of 1948. Chapter 2 is a translation of Vidal's September 2001 Vanity Fair piece on Timothy McVeigh (reprinted on this web site, clearly in violation of Vidal's copyright.) Chapter 3 is Vidal's November 1998 Vanity Fair essay on the loss of liberties in the U.S. And Chapter 4 is an essay entitled "The New Theocrats," which first appeared in The Nation on July 21, 1997. These last two essays are reprinted in The Last Empire, Vidal's 2001 essay collection. So there's really very little content in La fine della libertà that you can't get right now at a library.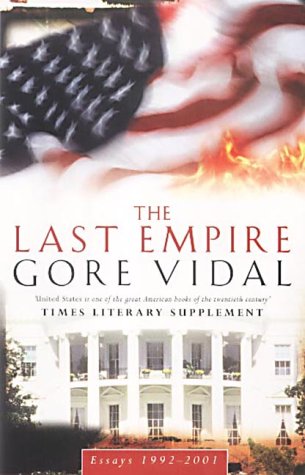 In addition to Perpetual War for Perpetual Peace, readers in the U.K. will soon be able to get an English-language copy of the new material in La fine della libertà in book form. Abacus, Vidal's U.K. paperback publisher, will issue an "expanded" edition of his U.S. essay collection The Last Empire (right) that will include the Vanity Fair essay on McVeigh and the rejected World Trade Center essay. American readers can order this book from any of a number of on-line U.K. internet booksellers.
If you read Italian, you can order La fine della libertà from Internet Bookshop Italia, a friendly and reliable internet bookseller. The link I offer here for IBS will take you directly to the page in Italian that offers this book. You can also read about the book in Italian at the site of its publisher, Fazi Editore. At the Fazi site, you can find links to reviews of the book in Italian, and if you have Adobe Acrobat Reader, you can read a portion of the first chapter of the book in Italian in the PDF format. The site even has a short piece from Newsweek about the flap over the book.
For people interested in Vidal's views on The World Trade Center attack, I've put together the following list of internet links. Unfortunately, I've found no on-line essay or statement in English by Vidal, only a few interviews written by newspaper or magazine reporters. For his full views in English, you'll need to get a copy of Perpetual War for Perpetual Peace.
Here, then, are the resources I can offer in which Vidal shares his views on the Sept. 11 attack:

Vidal's comments on the World Trade Center attacks appeared in Portuguese a few days after the event when he shared his views with a Brazilian publication. Those comments were then translated into Spanish and published in the Mexican newspaper La Jornada. Vidal later revised and expanded these early remarks for the Vanity Fair piece. The remarks now appear as the first chapter of both Perpetual War for Perpetual Peace and La fine della libertà.

Here's a piece in The New Statesman by reporter Johann Hari.

Another short interview piece in the U.K.'s Guardian includes comments on Sept. 11.

In a piece from Reuters, Vidal blasts the U.S. for its international policies.

Here's an interview with Vidal in German in Der Spiegel magazine. If you send me an e-mail, I can send you a translation of this interview done by a reader of my web site.

Ironically, here's a piece on Vidal that appeared in the Sept. 11, 2001, issue of the Frankfurter Allgemeine in which he discusses terrorism, and a piece from the same publication that ran in January 2001.

If you have RealPlayer, here's an interview on Italian radio in English and Italian.

Another RealPlayer clip - this one in English - of an interview on the BBC.

On a related matter, here are several outstanding video clips of Vidal and Noam Chomsky discussing the Gulf War. This program, taped shortly after the end of the war, was intended for television but never aired. You'll need to download the clips, which are in the "asf" format. They require somewhat newer multi-media technology to play and will not play directly from the site.

Here is a list of articles that examine Vidal's involvement in the Timothy McVeigh case. His views on McVeigh were almost as controversial as his views on Sept. 11.
Finally, I would appreciating hearing from anyone who can offer links to any more of Vidal's comments on the World Trade Center attack or its aftermath. And if you came directly to this page, please visit The Gore Vidal Index.
Harry Kloman
University of Pittsburgh
kloman@pitt.edu